Celebrem la 10ena edició del MUNBP
News

>

Celebrem la 10ena edició del MUNBP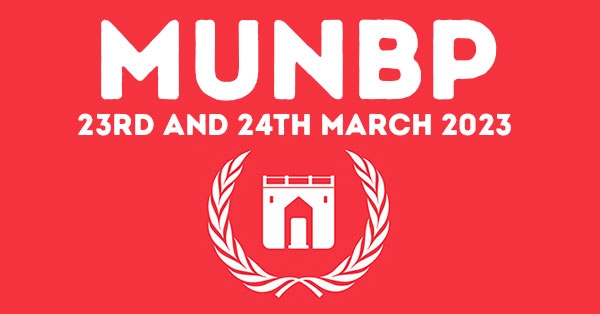 En poques setmanes encetarem un projecte a l'Escola que els alumnes de 4t ESO han estat preparant durant els darrers mesos sota la coordinació d'onze alumnes de 1r de Batxillerat. Parlem del MUNBP, el Model de Nacions Unides de BetàniaPatmos, que s'inaugurarà el proper 23 de març. Aquest no és un any qualsevol, celebrem la 10a edició d'aquesta iniciativa ideada per deu alumnes de 1r de Batxillerat l'any 2013.
Durant dos dies, els alumnes de 4t representaran diversos països en cinc comitès, enguany, cinc de molt importants dins de les Nacions Unides: el Security Council (SC), encarregat de la seguretat global; el Disarmament and International Security (DISEC), que debat sobre la regulació d'armes per a la seguretat internacional; el World Health Organisation (WHO), implicat en temes de salut mundial; el Committee on the Peaceful Uses of Outer Space (COPUOS), que discuteix sobre l'espai exterior i els seus usos per assegurar la pau i la igualtat entre nacions; i l'Office of the High Commissioner for Human Rights (OHCHR), que pretén assegurar el compliment dels drets humans al món. En cada un d'ells els diferents estats hauran de defensar la seva postura davant de temes actuals i importants en el context internacional.
No només participaran alumnes de 4t en aquest esdeveniment; també comptarem amb la participació d'alumnes de 3r i 2n ESO com a membres de l'staff. Així, durant les dues jornades, ajudaran en la burocràcia que es va generant i, a més, viuran l'experiència dels debats, aprendran sobre les complexitats del nostre món i prendran nota per a futures edicions.
Estem segurs que presenciarem debats interessants i inspiradors. Els alumnes tindran l'oportunitat de submergir-se en el món de la política internacional i la diplomàcia, entendre i representar diferents punts de vista, practicar l'anglès i gaudir de dues jornades molt especials. Amb raó del 10è aniversari de MUNBP, més que mai, aquest curs volem estendre l'esperit MUNBP per tota l'Escola. Si esteu interessats a conèixer una mica més del que treballarem en aquesta edició, us convidem a visitar el nostre lloc web i a seguir el nostre compte d'Instagram.
14/03/2023