Estada a Anglaterra dels alumnes de 5è i 6è de Primària
Estada a Anglaterra dels alumnes de 5è i 6è de Primària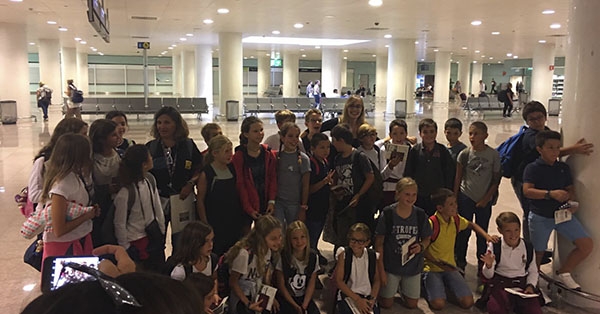 Go and do it!
La experiencia de Inglaterra ha sido muy emocionante. ¡No la hubiese cambiado por nada!
Si alguien tiene la oportunidad de ir, lo recomiendo mucho, ya que aprendes una manera diferente de entender las cosas y las tradiciones de otro país y tener un budy es muy chulo porque te lleva a muchos sitios y puedes aprender inglés y pasártelo muy bien con familias de allí. Además, se hacen muchas actividades divertidas en las que te lo pasas muy bien con tu budy y con tus amigos españoles. Por ejemplo, una de las actividades es la de ir a Londres durante todo un día y conocer una nueva ciudad. Así que... aprovecha la oportunidad que puedes tener y... go and do it!
Olivia R. (Alumna de 6è)
Dissabte i Diumenge dies 23 i 24/09/2017

Avui hem anat a la platja a fer un concurs de castells de sorra. Hem anat a un centre d'activitats d'aventura i hem muntat en hoverboard i Segway i, tot i que s'ha posat a ploure, això no ens ha impedit prendre'ns un gelat mirant al mar
Divendres dia 22/09/2017
Avui hem començat a practicar els balls que farem davant dels buddies dijous que ve. Farem un festival xulíssim!
Dijous dia 21/09/2017
La meitat del grup que no va poder anar a Londres hem anat a una hípica. Hem après molt sobre els cavalls i ens ho hem passat molt bé. Després hem anat a una reserva de micos on hem fet una gimcana i hem comprat peluixos a la botiga de regals. Per acabar bé el dia, hem anat a sopar a un restaurant italià!

Dimecres dia 20/09/2017
Avui totes les nenes han organitzat una festa sorpresa a la Boarding House per celebrar l'aniversari de les seves amigues Adriana i Clara.
Dimarts dia 19/09/2017
Avui hem passat la tarda amb els nostres buddies jugant a agafar la bandera i a bulldog.
Dilluns dia 18/09/2017
Avui hem compartit el tea time amb els nens d'infantil de Fiveways. Després hem vist junts la pel·lícula animada Don Quixot.
Dissabte i Diumenge dies 16 i 17/09/2017
Mentre la meitat del grup anava a casa dels seus buddies, la resta hem anat a la muntanya a construir cabanes i encendre un foc!
Divendres dia 15/09/2017
Per celebrar l'aniversari de l'Adriana hem anat tots junts a la pista de bitlles, hem sopat hamburgueses i ha vingut un discjòquei que ens ha posat cançons espanyoles per ballar!
Dijous dia 14/09/2017
Avui hem visitat alguns dels llocs més representatius de Londres i hem gaudit d'un bon dinar en un restaurant italià. Hem gaudit molt d'aquest dia a la capital britànica!

Dimecres dia 13/09/2017
Al matí estem molt ocupats amb les nostres classes; a la tarda hem dedicat una estona a enviar correus electrònics als pares i hem començat un taller de ceràmica en què hem treballat la nostra creativitatmarts
Dimarts dia 12/09/2017
Avui hem fet classe tot el matí i a la tarda hem anat a jugar a rounders amb els nostres buddies. Anem aprenent cada dia coses noves!
Dissabte dia 09/09/2017
Aquí ja fa dies que tot està en marxa. Tothom té assignada una classe i els nostres alumnes han après a anar amunt i avall en els canvis de classe.
Gaudim de les activitats amb els buddies durant la setmana i, sobretot, el cap de setmana, ja que les famílies es mostren molt acollidores amb ells.
A Bembridge som com a casa, en família. Ahir a la tarda vam compartir amb la resta de boarders una sessió de cinema amb crispetes incloses! Avui l'altra meitat del grup, la resta ho van fer ahir, som a TackIsle Adventures gaudint d'activitats al mar!
Com podeu veure, va tot sobre rodes...
Divendres dia 08/09/2017
Avui hem començat l'escola; els júniors, amb l'horari normal; els sèniors, en canvi, han anat d'excursió a Portsmouth. A la tarda tenim tea time a casa. Com podeu veure, no parem quiets!
Dijous dia 07/09/2017
Hem anat a Medina Valley, on hem gaudit dels kaiacs i hem practicat tir a l'arc i balins, tot amb molt de control i supervisió! A la tarda hem anat a la Ryde School i hem conegut el buddy amb qui conviurem i compartirem un munt d'activitats.
Dimecres dia 06/09/2017
Ens hem instal·lat a Bembridge house i hem fet una reunió informativa de tot el que farem durant la nostra estada. Ens esperen quatre setmanes de moltes activitats i grans experiències. Estem tots molt contents i amb ganes de fer moltes coses!
Notícia Original
Un grup de 26 alumnes de 5è i 6è de Primària de la nostra Escola ja són a Anglaterra, on fan una estada d'immersió a la Ryde School, a l'Isle of Wight .
Durant les quatre setmanes d'estada a Anglaterra, participaran en el Buddy Programme, programa a través del qual tenen assignat un company anglès amb qui comparteixen activitats lectives, esportives i de lleure. Alguns d'ells s'han retrobat amb els seus buddies de l'any passat.
Els alumnes estaran acompanyats durant la primera quinzena per la mestra de l'Escola Imma Ginebreda i per la Júlia Pérez durant la segona. Totes dues els ajudaran a l'adaptació i participaran amb ells en les activitats del cap de setmana.
Els desitgem una feliç estada, una molt bona immersió lingüística i que gaudeixin molt d'aquesta gran experiència!
07/09/2017