37 alumnes de Batxillerat fan una estada de curta durada a Londres
37 alumnes de Batxillerat fan una estada de curta durada a Londres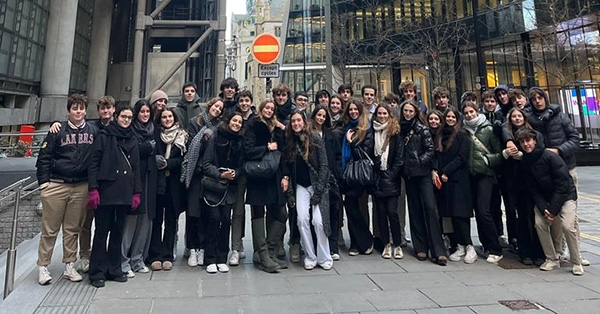 El passat dijous 12 de gener, 37 alumnes de 2n de Batxillerat que cursen Economia de l'Empresa, acompanyats pels seus professors, van marxar de cap de setmana temàtic a Londres per endinsar-se en el món econòmic i financer que ofereix aquesta capital.
Van tenir l'oportunitat de visitar la London School of Economics i conèixer la vida universitària a Londres i els processos d'admissió a les universitats angleses; visitar diferents empreses com la prestigiosa JP Morgan, una de les més importants al món pel que fa a serveis financers, i Gensler, una empresa innovadora de disseny i arquitectura a nivell internacional. A més, van fer un recorregut pel districte financer, The City, on van poder visitar el Museu del Banc d'Anglaterra i el Museu de les Marques, que els va permetre analitzar la publicitat dels productes britànics al llarg de la seva història.
D'aquest viatge han extret grans lliçons, no només sobre economia, sinó sobre el seu futur acadèmic i professional!
19/01/2023